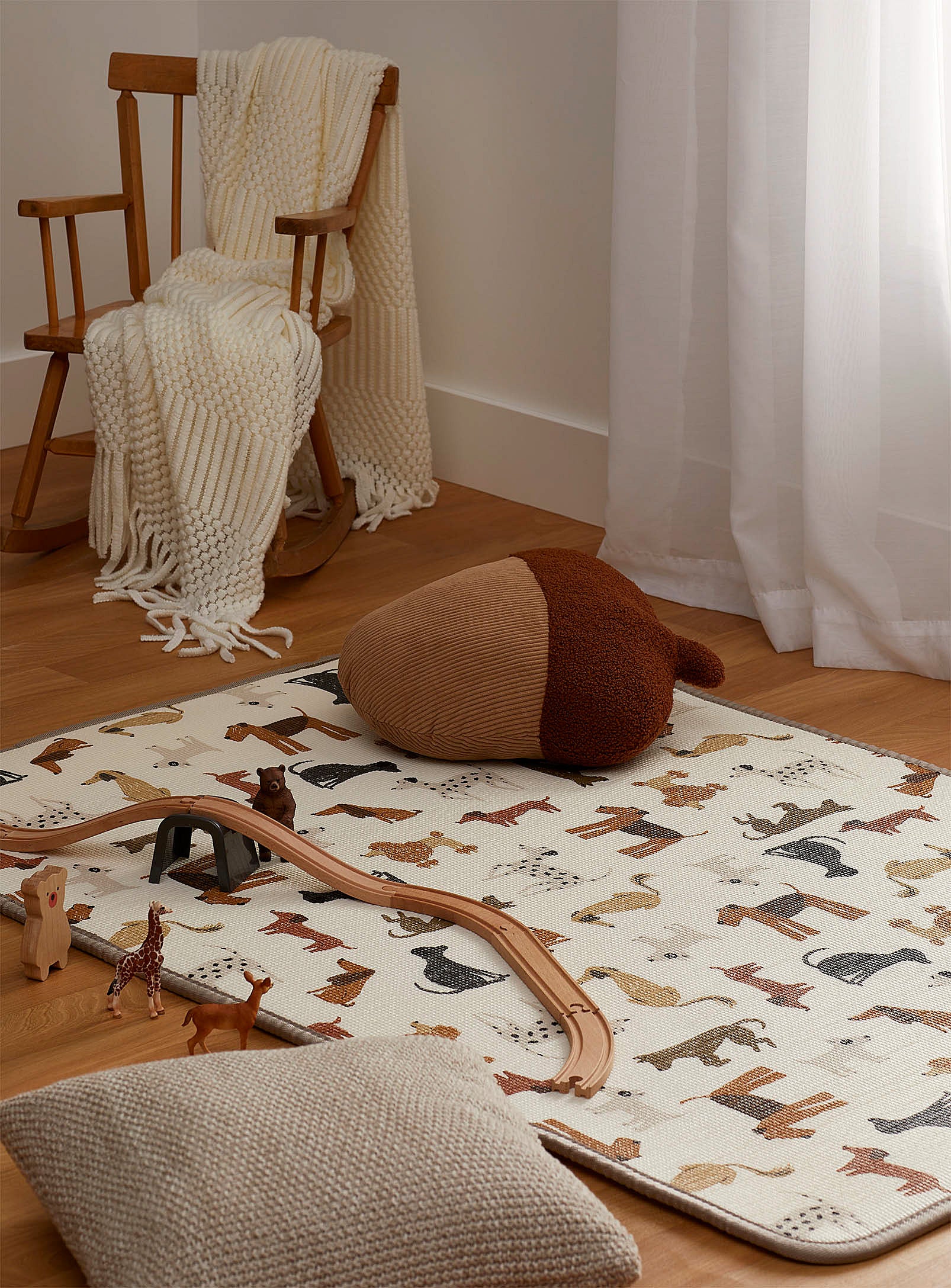 Yokina Dog Park Reversible Waterproof Baby Play Mat
Sale price
$67.00
Regular price
Product description
Shipping & Returns
Create fun adventures for your child anywhere with the Yokina Folded Playmat! Designed with sensory textured alphabet to stimulate and encourage interactive play, let your little one discover endless possibilities with this extra-large mat. Our lightweight, thick padded design quickly transforms any floor space into a colorful, creative play area. The Yokina Folded Playmat instantly folds into a convenient bag, perfect for easy storage or travel. 
Pattern: Dogs
Construction: Power-loomed 
Material: 100% Soft XPE Foam
Origin: China
Size(s) Available:  39" x 60"
Pile Height (Inches):  0.40"    
Ages: 0+
Care Instructions: Easy cleaning, just wipe with mild soap solution and air dry.
Package contains 1 folded play mat with carrying storage bag. (Toys shown in the video are not included).
Shipping is always free.
That's right, always. 
What good is shopping online if you end up paying exorbitant shipping fees that unreasonably raise your costs? At Erbanica, we believe you should have the liberty of shopping freely right from the comfort of your own home. And when you see our rug prices listed on our website, you know those are the actual prices. No added surprises once you hit the checkout page and type in your address.
Our office is open from Monday to Friday 8:30 AM to 4:30 PM EST. We ship all orders first thing in the morning and ship using FedEx Ground (Canada) and FedEx Ground International (USA). Orders placed Friday after 8:30 AM EST to Sunday will be shipped on the following Monday. Shipping times vary based on location. You can expect your order as early as 1 business day to 5 business days, weather permitting. For express shipping time and rates, please contact us by phone during business hours or by email out of business hours.
 Free shipping at Erbanica
 If you live in Canada or the United States, you're guaranteed free shipping from Erbanica. Every time. 
Thanks to our business model
 We go straight to the source. Working directly with carpet weavers and carpet manufacturers in India, Turkey, Belgium, China and Egypt, Erbanica imports the world's finest rugs directly to Canada and the United States. On any given transaction, there's no one else involved other than you, Erbanica and the weaver or manufacturer. By cutting out unnecessary middleman companies, we also cut out associated costs to pay those people for their services. 
High volumes
 Erbanica sells thousands of one-of-a-kind, hand-woven rugs every month. By working in high volumes, we're able to obtain preferred shipping rates from the major shipping companies in Canada and the United States. And since nothing means more to us than to make your online shopping experience a great one, we happily absorb those low shipping rates on your behalf.
Return any product quickly and easily. 
Buying a rug online can be a little nerve racking. How will it look in your space? Is the size right? How will the color scheme complement your existing furniture and décor? There are so many questions and yet most can't be answered until you see your new carpet in place. 
But what if it just doesn't work? 
No problem. 
Simple returns!
At Erbanica, we want to make your life easier. It's our passion and our commitment to help you find the most exquisite rugs for your home, cottage, office or studio. If it's not quite right or you simply don't like it once you receive it, we want you to return it to us so you can find something that you absolutely love! And that's why we've worked hard to make our returns process as fast, easy and bother-free as possible. 
How it works 
Follow these steps to return any rug you've purchased from Erbanica. 
Be sure to start the return process within 30 days of your purchase.
Email us at admin@erbanica.com and let us know you'd like to return your product.
We'll send you a return email with a shipping label.
Simply put your rug back in its original packaging, put the shipping label on the package and send it back to us.
No matter where you're located, you'll only be charged one low, standard shipping fee to mail the package. Please see the chart below to view our flat return fee. (There are no hidden charges.) 
That's it. You're done. 
Once we receive and inspect the rug, we will refund your total amount minus the flat return fee. 50% of this fee will be credited back to you as a gift card to our shop for your next rug purchase.
Erbanica Flat Return Fee

Size

Return Fee Cost CAD

Return Fee Cost USD

 

up to 4' x 6'

$25.00

$20.00

 

up to 6' x 9'

$35.00

$25.00

 

up to 8' x 11'

$45.00

$35.00

 

9' x 12' and above

$90.00

$70.00

 
And then, of course, we hope you'll go back through our product selection to find a better match for your space. 
Have questions? 
Contact us anytime. We're happy to help.